Happy, Sexy, Strong: Sasha Benz
We're so excited to launch our "Happy, Sexy, Strong" series exclusivley on Ramy's World, which will feature inspiring, stylish and intelligent ladies doing what they love. Whether these do-it-all women are building their own business, balancing life and motherhood, making an impact on their community or just going after their goals — we want to celebrate it! Join us each month to learn about a new inspiring woman and tell us what makes you feel #happysexystrong.
---
Sasha Benz: Entrepreneur, owner of Wyld Blue and Montauk expert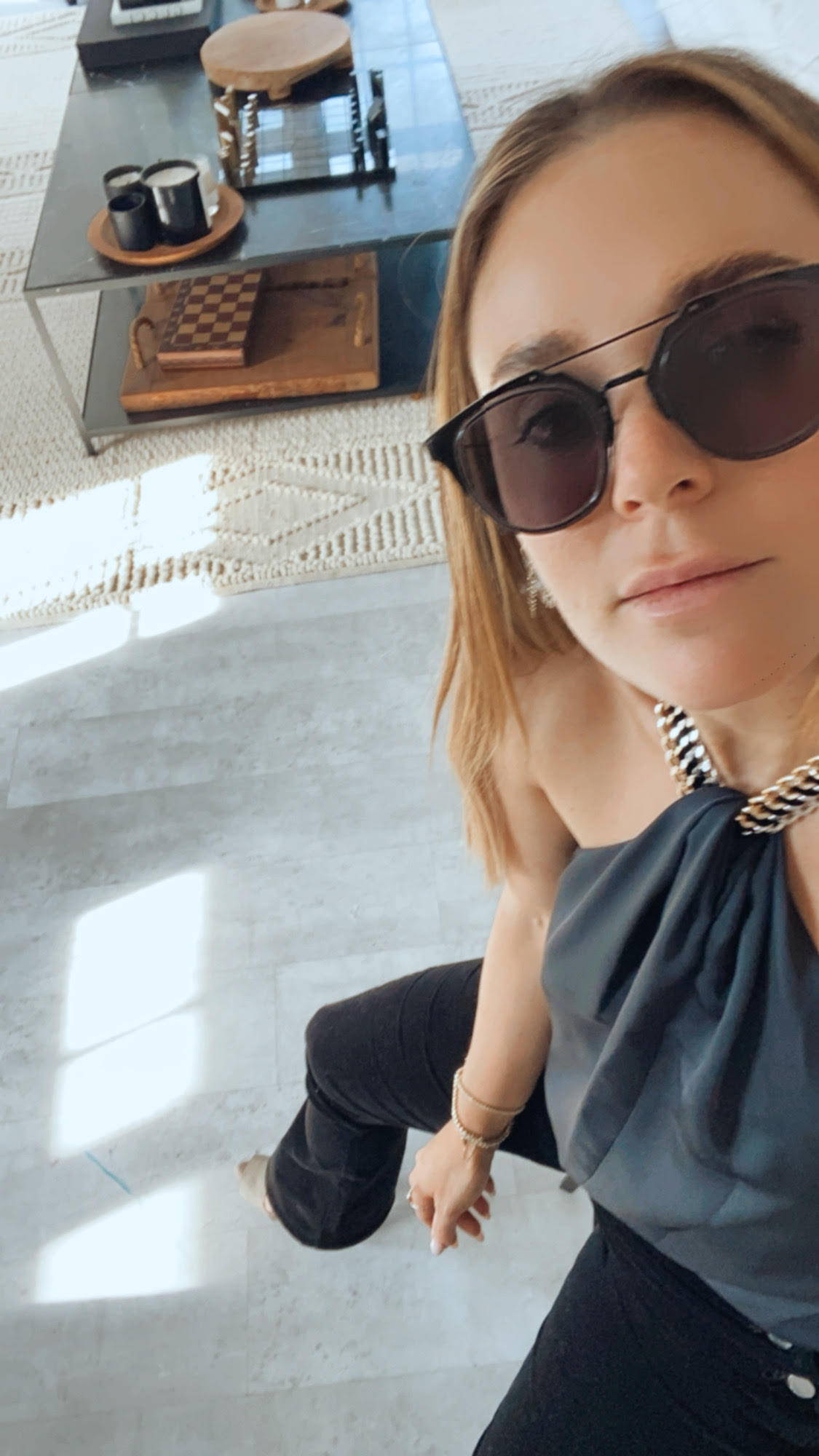 For this month's HSS series, we connected with the fabulous Australian entrepreneur and ultimate cool-girl, Sasha Benz. The Sydney native and mom of three began her career as a freelance fashion stylist working for pubs like Harper's Bazaar, Vogue Australia, and Vanity Fair. In 2014, she launched the online media magazine All My Friends Are Models which brings issues and stereotypes in the modeling industry to the forefront.
In 2015, Sasha moved out east to Montauk to serve as the Creative Director of Surf Lodge, the iconic boutique hotel and party hub for the hottest names in music and fashion. Two years later, Sasha dove into the tech world and launched Cinq, a social networking app that streamlines the process of sharing contacts and organizing an address book. 
Alongside all of her endeavors, Sasha founded vintage boutique Wyld Blue (named after her two children at the time) and its' sister store Wyld Black, currently residing in Montauk and Aspen. 
Learn more about this Aussie mama below!
Tell us a bit about yourself and how you got started in your career.

I am Australian born, who moved to New York city 12 years ago with my boyfriend at the time and our 50 pound French Mastiff with no visa, no apartment, no job and very little money to our name. Before moving I was a Fashion Stylist and Oli was a male model. I had worked for some amazing magazines back in Australia - started as an intern for Russh magazine and very quickly progressed as a stylist working with an agency and for the likes of Harpers Bazaar and Vogue, but when I came to NY none of my experience translated so I struggled to find work for over a year, picking up a few random assisting gigs here and there to pay the bills, and Oliver's work was so sporadic that he worked as a waiter for a catering agency.  
Things were very shaky for us for the first few years. I tried to launch a business which I couldn't get funding for and it never took off (it was a designer rental concept, go figure) and after two years trying to do it on my own, I gave that up and I decided to start my own online magazine called All My Friends Are Models and it instantly took off after our first event. It gained so much attention and traction so quickly, and very soon after launching the magazine I was offered the job as the Creative Director at The Surf Lodge out in Montauk. Oli and I packed up our apartment, threw it all in storage and took the leap to Montauk for the summer. 
7 years later, a home and 3 kids, we find ourselves living here year round with a very successful retail company that started by default during my time at Surf Lodge. (another time, another story!)
What advice do you have for other women wanting to pivot (or add to!) their careers?


Someone once send this quote to me, "you can fail at doing something you dont love, so why not fail at do something you love" and that really stuck with me. I really believed in my ideas when no one else saw the vision and I always just put my everything into each project. Many times I would spend hours and hours on building a concept, and business plans and pitch decks and research knowing that there was a very good chance it wouldn't succeed, and it never stopped me because at the end of the day if nothing came out of it, at least I had the experience and hopefully gained some knowledge of why and how it didnt take off, and hopefully met some amazing people on the way. Obviously not succeeding sucks, but it always opened a new door or skill I never knew I had. 
Also something that I found was so important over these years is finding people you can trust to guide you, and can mentor you and be a sounding board when things get tough and complicated. Doing new things on your own is hard, but often the only way - so having a good external support network is so key. 
And then I think just knowing that your experiences in your career are not as 2D as you think. Being a creative director for a hotel on paper, had no overlap when it came to building a networking app from scratch - but it was amazing to see how many of my skills could be adapted into that world. It was all about managing a team, understanding relationships, utilising my event planning skills and letting go of any ego to learn from those who could fill in the gaps I didnt have. 
For example, when I decided on a whim to open the retail space, I had absolutely no knowledge whatsoever on how to do this - but I had spent so many years styling and renovating my home and shopping for kids clothes, that at the end of the day I just harnessed those skills to create and curated a unique space using that knowledge and the rest was just the help of good ol' Google! 
Aside from your fabulous resume, perhaps the most inspiring role you've taken on is: "mom". What is the greatest challenge you have faced as a working mom and how do you successfully balance your work and family life?

This has definitely been my biggest challenge and something I think I have only just recently perfected. 
When I look back to my first baby, I was only one year into my job at Surf Lodge and I was so scared that if I took time off someone would swoop in and take my job and my time there would be over before it began, so I adamantly went back to work after two weeks which was a disaster. I was exhausted, I couldn't afford help and had no family in the US, so I found myself missing meetings, scattered and working through the night and on the mum side I never healed my body after birth which caused complications and couldn't breastfeed like I had wanted to because I was so overworked. It was a disaster and I felt like I was failing in both areas of my life. 
Looking back, I am still grateful I persisted, but ever year that passed I learned new ways to balance work and mum life. Asking for help is ok, and honestly when I finally hired someone to help me (even though I was basically working to pay the help) it allowed me to pass on the tasks that exhausted me and take on the sides of motherhood that gave me joy. And as a result I began to work more efficiently, excel and progress in my career. 
Having a good team, an organised calendar and writing notes for every task large or small is my daily mantra. Leaning on people to help with the kids and my personal life gave me the ability to see clearly, have more kids and continue to work as a hard as I want to. Also having an incredibly hands on husband and father is so incredible. Oli is my equal when it comes to parenting. 
Ramy has been spending her summers out east for over 20 years. We opened our second store in Southampton just last summer! As a fellow Hamptons expert, tell us what you love most about this summer hot spot.

We have fallen in love with Montauk for so many reasons, but we I love how its a small surf town, but it has so much energy and movement during the summer. So many incredible people and creatives coming in an out, so many different events each weekend and long beach days - everyone here has big hearts and focuses on supporting one and other and enjoying the wonderful lifestyle they have created in the town.
The town is so busy, yet so small and intimate at times. We have raised our three kids here, so far from Australia - because its as close as we have gotten to finding a beach lifestyle and family community in one place. 
Describe your personal style in 3 words.

Chic, comfortable, natural. 
What can we expect next from you?

We are working very hard at expanding Wyld Blue as a company - opening new locations across the US and building a strong team both in store and behind the scenes - this also includes a small design component where we hope to start creating our own in-house brand. 
Dont be afraid to give up the good to go for the great. 
Tell us what makes you feel...

Happy: My family. The immediate and extended.
Sexy: My husband. 
Strong: Being a mother.