Happy, Sexy, Strong: Jessica Latham
We're so excited to launch our "Happy, Sexy, Strong" series exclusivley on Ramy's World, which will feature inspiring, stylish and intelligent ladies doing what they love. Whether these do-it-all women are building their own business, balancing life and motherhood, making an impact on their community or just going after their goals — we want to celebrate it! Join us each month to learn about a new inspiring woman and tell us what makes you feel #happysexystrong.
---
Jessica Latham: Co-founder & CEO of Social Studies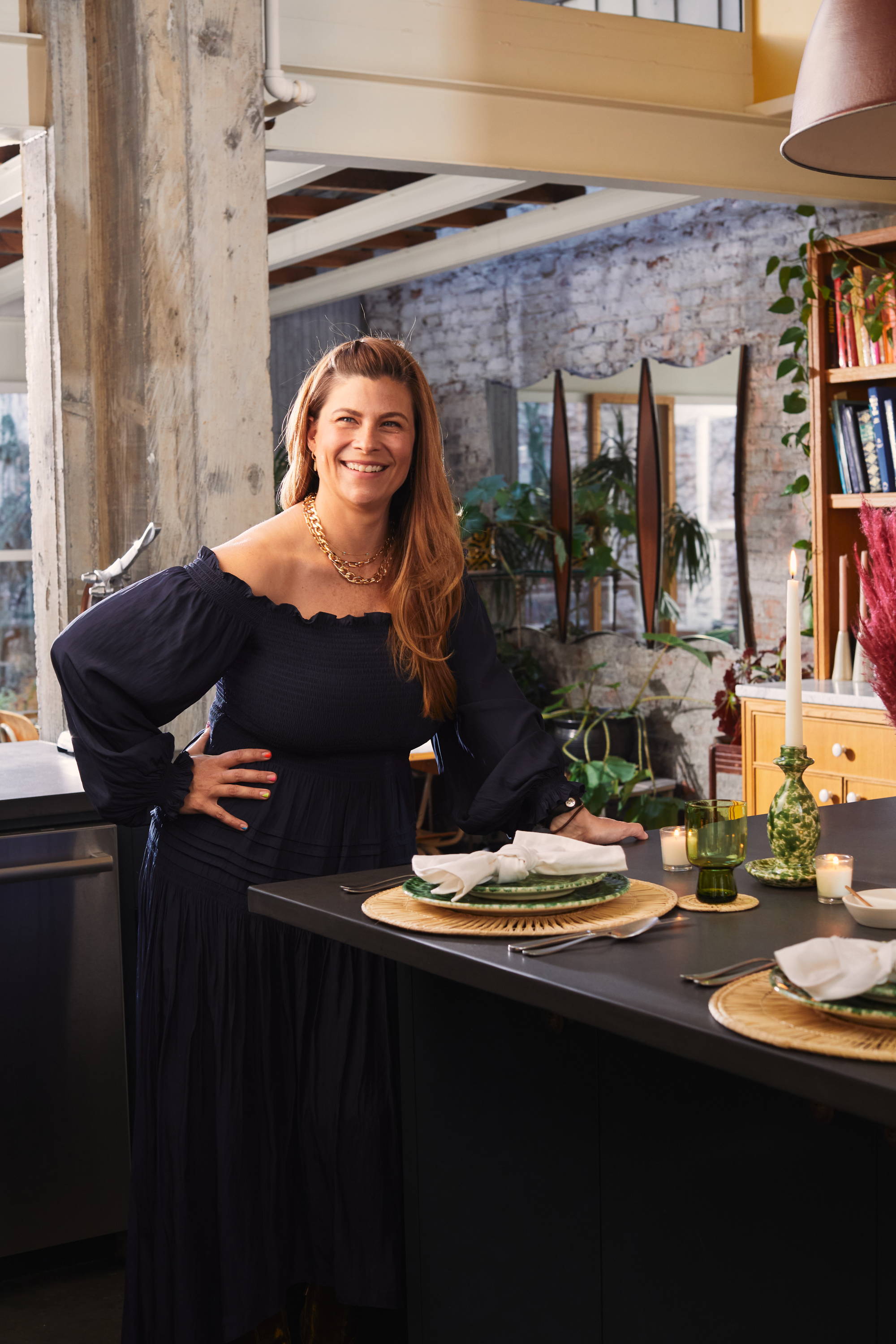 Jessica Latham pictured in the Anita Dress. Photo by Shana Jade Trajanoska.
---
To kick of 2022 and our HSS series, we connected with Jessica Latham, Co-Founder and CEO of Social Studies. For over 15 years, Jessica has immersed herself in the event & entrepreneurial space. She began her career in public relations at PMK-HBH before moving to the realm of event production at Vanity Fair, where she oversaw special events for 8 years. In 2011, Jessica launched her own production company, Social Studies Productions, eventually paving the way to her current endeaver. In fall 2019, she cofounded Social Studies with Venture capitalist Amy Griffin.
Social Studies is a go-to destination for all things entertaining with rentable party kits, tablescapes, decor, and more. They offer highly curated (and ultra stylish!) entertaining kits for any occation, all while collaborating with tasteful designers and thoughtful brands. 
We connected with Jessica to learn more about her business and how she got started below!
---
Tell us a bit about yourself, your passions and how you got started in your career.

I grew up in Amarillo, Texas, and attended college at The University of Texas at Austin. I spent the bulk of my career in event production, where I produced numerous celebrity charity events, brand launches, and premieres for clients in entertainment, philanthropy, and fashion. From 2004-2011, I oversaw special events at Vanity Fair, including the brand's legendary Oscar campaign. During my tenure there, I created the VF Summer Guide. My time at Vanity Fair was the ultimate training ground, not only from an events perspective but also as it relates to style, fashion, and culture. Being immersed in the zeitgeist was part of the job and I really developed a love and passion for it. I also love film (I have produced film projects before and also serve on the Aspen Film Board of Trustees), as well as travel. In 2019, I co-founded Social Studies with fellow Amarillo native Amy Griffin. 
What gave you the push to start your own business and what advice do you have for other women wanting to take that leap?

Prior to founding Social Studies, I ran my own event production company by the same name. The party planning process is fragmented and time consuming and I wished there was a one-stop shop where I could source everything needed, pre-curated and send it back when the event was over. I was also frustrated by the lack of easy, affordable, and high-quality party rentals, particularly for small to medium-sized events. It was over a post-hike lunch with my co-founder Amy Griffin when we realized we had an opportunity to merge our skill sets - mine in event planning, hers in marketing and early-stage investing - to launch Social Studies and empower anyone regardless of experience to seamlessly plan the perfect event, without the stress or guesswork. 
In terms of advice, don't start a company alone and find the right partner. I feel lucky that I knew Amy for a long time and starting a company together felt completely serendipitous - a perfect merging of our skill sets at the right time in our lives. I would also say that it's important to put your own oxygen mask on before assisting others. Take care of yourself and your employees to avoid burnout. Know that your journey as an entrepreneur will be a marathon, not a race, that requires a great deal of optimism, resiliency, flexibility, and decisiveness. 
Aside from your impressive resume, perhaps the most inspiring roles you've taken on are: "wife, dog mom and friend". How do you successfully manage your work / life balance?

Any founder will tell you that there is never a perfect work/life balance, particularly when you are operating a customer-driven business with high demand. It's essential to find your support system early on. For me, my husband Ryan is like the secret weapon of Social Studies. While he's busy with his own career and doesn't have an official position at the company, he is my rock and constant advisor and confidant. My dog Bucko brings me pure joy and is along for the ride - quite literally as he joined me on our national marketing road tour. 
I also am blessed with a dedicated network of friends who have been my cheerleaders from Day 1. There are so many people who I care about who have invested in and believe in me. As I continue to guide the company through the pandemic, I have also recognized the importance of taking quality time both for yourself and with your loved ones. At the end of the day, that's what Social Studies is all about, so I have to remember to practice what I preach.  
Social Studies is known for its' curation, convenience and style. What inspires you when creating your table kits?

We research and soak in inspiration from the world. We look at what's going on right now in fashion, design, architecture, food, anything in the zeitgeist really. Then we start with mood boards. From there, we look at what's available from a product sourcing standpoint to match the inspiration and we take into account things like weight and durability, but also price point to make sure we are keeping the looks at an accessible rental price for our customers. It's about mixing high and low, which we think ultimately results in a more eclectic feel. 
Safe, at-home gatherings a great social option during these freezing winter months. What are some tips for creating a fabulous at-home gathering?

For setting the table, my go-to resource for is renting a Social Studies entertaining kit, which includes everything needed to set an impressive and elevated table, pre-curated and available in 40 different styles. I also layer on one of our occasion boxes for purchase, which have essential winter decor elegant enough to pair with any style, or pull from our retail assortment which include pieces from and inspired by some of our most popular rentable looks. 
The most important tip for hosting is to stay relaxed because your guests will pick up on your energy. Set the mood with a great playlist - we have many curated on our Spotify channel. Make lunch or dinner a potluck and set the table together the night before (this is also a great way to get kids involved). Now that we are gathering in larger groups than last year, plan for a simple buffet-style dinner with at least one vegetarian option like meat-free lasagna or a casserole. Weather permitting, I love to dine al fresco. You can set up in your backyard space if you have one or in a nearby park, and bring plenty of blankets.
Describe your personal style in 3 words.

Strong, unexpected, relaxed.
What can we expect next from you with Social Studies?

We are expanding on all fronts, including our retail assortment that perfectly complements our rentable entertaining kits. We are going to announce some exciting design collaborations this spring, and will continue to partner with a slew of B2B partners across industries on co-branded activations. We are also continuing to grow our editorial arm with distinct franchises such Dress Code and Hosts at Home, which feature tastemakers showing off their unique fashion and entertaining style: https://social-studies.blog/.
"Your playing small does not serve the world." – Marianne Williamson
Tell us what makes you feel....

Happy: nature
Sexy: a tan
Strong: consistent workouts
---